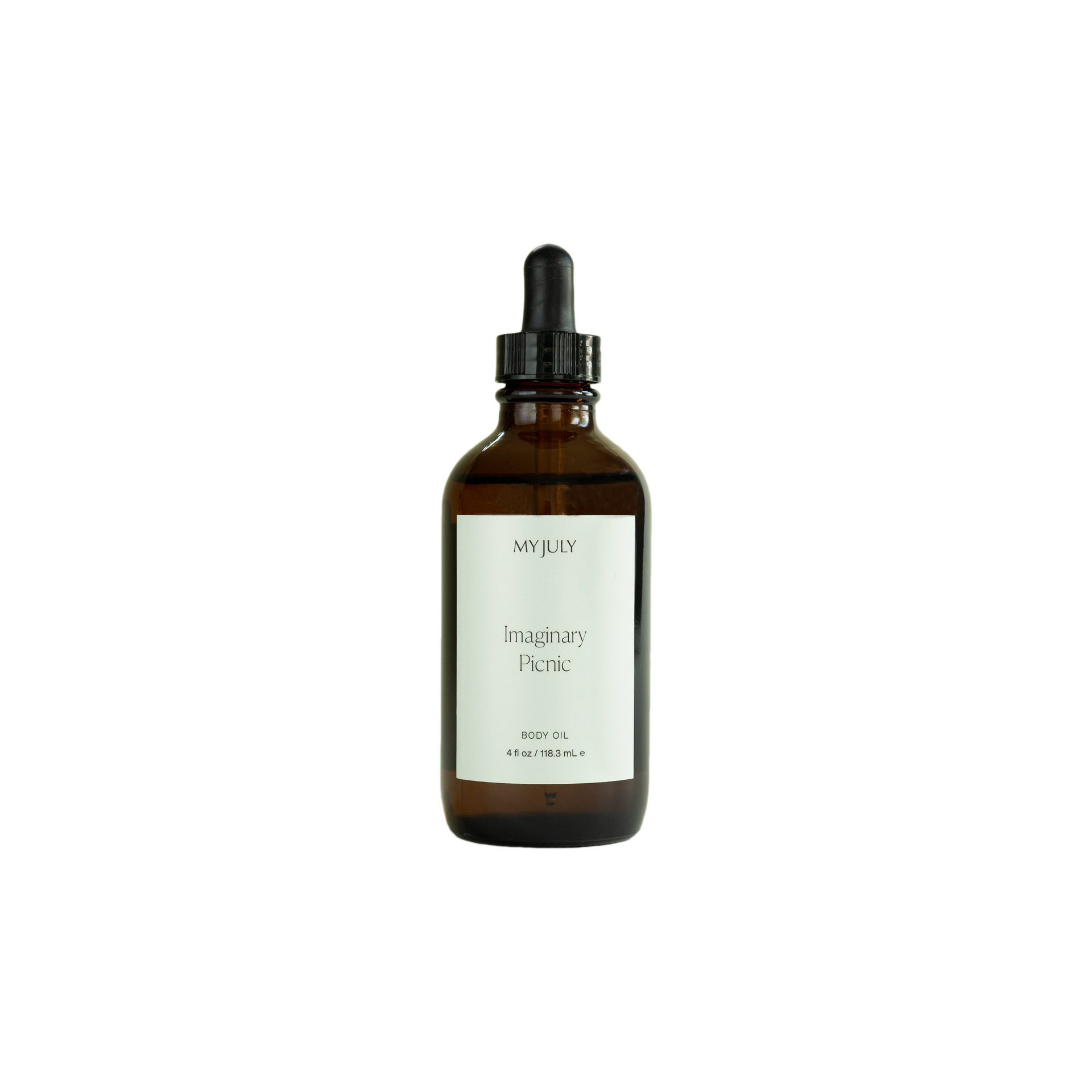 Imaginary Picnic Body Oil
Blue skies, lemonade, and naps in hammocks are forever—at least while you use this body oil.
Drop some in a bath for extra moisturizing power and a little aromatherapy.
Scented with sweet marjoram, bergamot, and lemon essential oils
Suitable for all skin types & all ages
Comes in a mini size 2 fl oz glass bottle or full size 4 fl oz glass bottle
Shelf life is ~12 months
Apply & massage onto hands, face, and body. Comb excess through hair, starting at the roots, and work your way down to the ends.

For external use only. Avoid eye contact. If reaction occurs, discontinue use. This product is light sensitive. Store in a cool, dry place away from direct sunlight.
MCT Oil: Also known as "fractionated coconut oil," MCT oil has had its long-chain fatty acids removed via hydrolysis and steam distillation. It stands for "medium chain triglycerides" which easily metabolize into the skin.

Sweet Marjoram Essential Oil: Reduces inflammation-based pain. Improves circulation to increase the blood flow and warm the body.

Bergamot Essential Oil: Works as a powerful antidepressant, relieves stress, and inhibits the growth of germs, fungi and viruses.

Lemon Essential Oil: Equally as stimulating as it is calming, lemon essential oil also has antibacterial and antifungal properties.

Full List of Ingredients: Carthamus Tinctorius (Safflower) Seed Oil*, Camellia Sinensis Leaf Oil*, Caprylic/Capric Triglyceride (Fractionated Coconut) Oil*, Tocopherol (Vitamin E)**, Essential Oils Of: Citrus Aurantium Bergamia (Bergamot) Fruit*, Citrus Medica Limonum (Lemon) Peel*, Origanum Marjorana Leaf* *Certified Organic **Certified Non-GMO ISO

CAUTION: This product contains citrus essential oils. In rare cases, these oils can cause photosensitivity (make the skin more sensitive to the sun) if exposed to strong sun directly after application.

For educational purposes only. Any statements or claims about the possible health benefits have not been evaluated by the Food & Drug Administration (FDA) and are not intended to diagnose, treat, prevent, or cure any diseases.